At MicroDream Ltd, we are dedicated to providing the highest quality refurbished laptops and desktop computers at affordable prices. Since our establishment in 2009, we have grown from a modest basement operation to become one of the leading companies in our industry.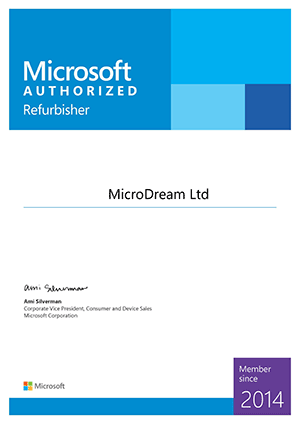 Located in Devon, United Kingdom, our team has extensive experience in the information technology sector. We take pride in being recognized as a Microsoft Authorized Refurbisher (MAR) . This prestigious distinction is held by only 5 MARs in the entire United Kingdom. As a MAR, we adhere to strict requirements set by Microsoft, ensuring that you receive a professionally refurbished computer of the highest standards.
In December 2015, we expanded our services to include a printing department dedicated to renewing computer equipment to a like-new condition. We are particularly proud to be the largest company in the UK specializing in keyboard reprints. Our renewal department is equipped with cutting-edge technology, guaranteeing exceptional quality and quick turnaround times. Through our renewal and printing facilities, we can transform your low-grade devices into ones that appear completely brand new.
We appreciate your interest in our services, and we are committed to providing you with outstanding customer service and satisfaction.
Micro Dream Ltd
Petitor House
Nicholson Road
Torquay
Devon
TQ2 7TD
United Kingdom
Correspondence address:
12 Brixham Enterprise Estate
Rea Barn Road
Brixham
Devon
TQ5 9DF
Phone: +44 (0) 1803 269 861

Company Registration number 06953055
VAT Registration number GB945125624