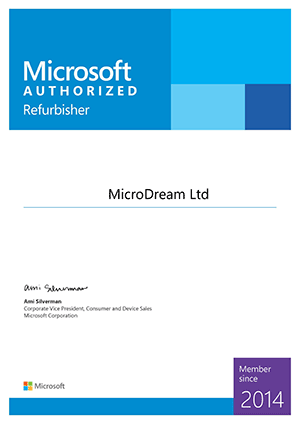 Purchase a refurbished PC from MicroDream today!
We offer the most affordable and reliable refurbished PCs.
If you are looking for ways your business or organization can enjoy the benefits of owning a PC that fits within your budget, consider refurbished PCs from MicroDream.co.uk, a Microsoft Authorised Refurbisher.
A refurbished PC purchased through a Microsoft Authorised Refurbisher gives you an affordable system that is preinstalled with genuine Microsoft software.
With a refurbished PC you can:
Immediately begin to enjoy the benefits of PCs throughout your business or organization, without breaking the budget.
Stretch your budget and expand the number of PCs you can buy.
Have the confidence of knowing that your PC has been professionally refurbished - wiped of all of the previous owner's data, repaired, tested, and then preinstalled with genuine Microsoft software.
The value of genuine Microsoft software.
Our refurbished PCs come preinstalled with genuine Microsoft software, giving you the confidence of having a system that helps you:
Keep your computer running smoothly, because genuine Microsoft software gives you access to downloads, updates, and enhanced features.
Avoid downtime and lost data that can occur when counterfeit software malfunctions.
Protect your systems from the dangers of counterfeit software that can expose users to security risks, including viruses and spyware.
Be in compliance with authentic and properly licensed Microsoft Windows® software.
Free Support
As a purchaser of a Microsoft Refurbished product, you are entitled to FREE Operating System Support direct from Microsoft. Support is available from Microsoft's free web-based service. Learn more about your product support options at: http://support.microsoft.com
A partner you can trust.
As a Microsoft Authorized Refurbisher, we must follow strict requirements established for the MAR program by Microsoft. These requirements are designed to ensure that you receive a high quality and professionally refurbished computer. Being part of the MAR program, also guarantees that you will receive a legal Certificate of Authenticity (C.O.A.) attached to the computer, and a valid version of Microsoft Windows 10 operating system installed on every computer that is purchased through us.
Best Sellers